We are happy to welcome guest writer, Polly Goss, Advisor at Mentor Collective.
The Fall semester has officially started for many universities across the country. Starting college is scary for most students at the best of times. For students starting college this Fall, feeling "uncertain" is a grave understatement. With institutions changing reopening plans daily in response to rising cases of COVID-19, many students are left feeling lost and powerless.
Mentor Collective partners with over 80 forward-thinking institutions committed to providing their students with the personalized support of a near-peer mentor. We surveyed over 400 students who have had at least one conversation with their mentor, we asked them:
How has having a mentor has impacted your feelings about starting school during the pandemic?
94% of students reported that having a mentor means they feel more confident about attending school in the fall. Students reported multiple ways in which mentors have helped them feel more comfortable starting school, including connecting them with resources, providing emotional support and encouragement, and answering their questions about school life.
Grace Dunlap, a student enrolled in the College of Liberal Arts and Sciences at CU Denver, shared: "My goal this year was to make a friend. My mentor reassured me that I could make friends even while being online. Talking to her, I felt heard and had a great time doing so." Grace's comment speaks to the importance of social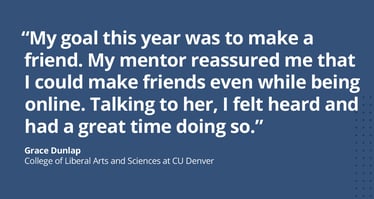 connection, and the crucial role a mentor can play in helping students build new relationships. The impact of mentorship on students' sense of belonging is one of the critical ways mentorship can drive student persistence. Helping students feel part of a community is now more important than ever to foster college success.
International students, in particular, have had to navigate a lot of challenges and uncertainty over the past few months. Salifyanji J. Namwila is an international student at Dartmouth College participating in the First-Year Student Enrichment Program, which supports first-generation students. "[My mentor] Juliet is always optimistic even in the worst of my times," Salifyanji shared. "She helps me work around challenges, including those I feel may not really be in her wheelhouse. For example, she helped me handle my I-20 challenge and enlightened me on how to navigate Canvas. Above all, she [is] very approachable, more like a friend, and inspiration at the same time. She gives me hope that everything will be fine and that I am not alone in some of the challenges I am facing."
Repeatedly, students shared that having a mentor has made them feel less anxious about starting school. Tiffany Gonzalez, an incoming student at San Francisco State University, reported that: "My mentor has helped me gain confidence within myself by telling me about her experiences and things that she has done. It helps me worry less about starting school."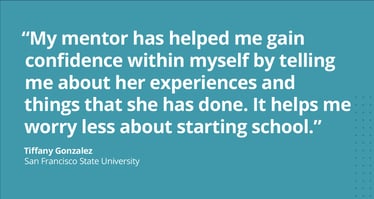 Higher education leaders are faced with unprecedented challenges this year as they strive to provide students with the quality education and college experience they deserve. To learn more about how Mentor Collective can help your students feel supported and develop meaningful connections to your institution, contact the Partnerships team today.