Today, many students are pursuing their college degree because of one word: CAREERS.
And to be sure, studies show that a bachelor's degree comes with some major job benefits:
Higher salary: A recent study from Georgetown University found that the average college graduate earns $1 million more in earnings over their lifetime than those without a degree.


Greater job security: The U.S. Bureau of Labor Statistics finds that the unemployment rate for those with a bachelor's degree is 2.2 percent, while those with just a high school diploma have a 4.1 percent rate.


More career options: Another study from Georgetown shows that a whopping 95 percent of jobs created since the Great Recession have gone to workers with at least some college education.
So how do you do your part to help your institution's students succeed in the job market?
Impact Students' Job Confidence
A study of more than 32,000 U.S. undergrads conducted by Strada Education Network and Gallup found that six collegiate experiences are linked to long-term outcomes such as higher workplace engagement and wellbeing for college alumni nationwide.
These college experiences fall into two main categories: student support—such as relationships with professors and mentors—and experiential learning, such as internships, in-depth projects, and extracurricular activities.
According to the study, "the proportion of currently enrolled students who strongly agree that they are confident they will graduate with the skills and knowledge they need to be successful in the job market rises steadily with the number of these experiences they have had."
That is to say, students who have only had one of these critical experiences in college exhibit a 23 percent job confidence rate, while those who have had all six leap up to an incredible 76 percent.
Mentorship Linked to Career Outcomes
One of the statements survey respondents were asked to respond to was: "I have a mentor at [university] who encourages me to pursue my goals and dreams."
What may be surprising is that 18 percent of students strongly disagreed with this statement—and further 17 percent disagreed. That means that more than a third of college students do not feel they have a positive mentor at their institution who is there to support them and help them find internships. Those who do find a mentor, are twice as likely to end up engaged in their work later in life.
How Can I Improve Those Numbers?
As the study shows, providing even one of these critical experiences for your institution's students can have an important impact—around a 10 percent increase—on their job confidence. An easy way to help boost your student population's experience is to create a mentorship program that is offered to every student.
We've seen many institutions across the country, from large state schools to small liberal arts colleges, offer high-quality mentorship to every student without compromising their time or resources by partnering with Mentor Collective.
Indiana University School of Public and Environmental Affairs (SPEA) partnered with Mentor Collective to offer each student an experienced mentor for more personalized career guidance. Over 300 students were matched with a peer or alumni mentor and they logged over 850 conversations throughout the year.
According to Brandon Busteed, executive director of Gallup Education, higher education has one of the greatest human capital assets — its alumni — who can provide the guidance its students might value most. Empowering these populations to become mentors could be "one of the most important changes a college or university could make toward supporting the success of its future graduates".
Learn more about IU SPEA's program in our case study: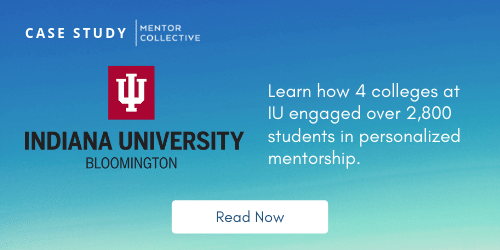 Interested in running a Career Mentorship program for your students? Learn more →