We are happy to welcome guest writer, Polly Goss, Advisor at Mentor Collective.
Mentor Collective convened more than 600 higher education leaders this fall to facilitate a national conversation around higher education's role as a vehicle for social mobility.
To continue our series, "Fulfilling the Promise of Higher Education," Mentor Collective and Oklahoma State University hosted a virtual roundtable on October 21st. More than 50 senior leaders joined us to discuss student success in 2020 and beyond. Here are three key takeaways from the event:
Relationships Matter
Students, particularly new students, are struggling to make friends and connect to their college community this year. Universities across the country are fearful that student retention rates will decrease, particularly among first-generation and low-income students.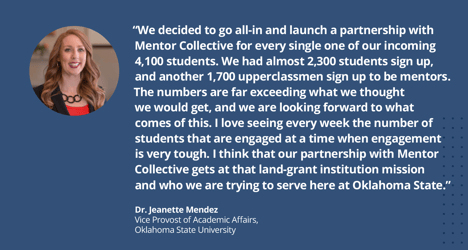 Dr. Jeanette Mendez, Vice Provost for Undergraduate Education at Oklahoma State University (OSU), was a first-generation college student, which grounds her in her work today. OSU, a land-grant institution, is deeply committed to equity and access: "we care about access for all of our students, we care about student success deeply," she said. She shared, "we decided to go all-in and launch a partnership with Mentor Collective for every single one of our incoming 4,100 students. We had almost 2,300 students sign up, and another 1,700 upperclassmen sign up to be mentors. The numbers are far exceeding what we thought we would get, and we are looking forward to what comes of this. I love seeing every week the number of students that are engaged at a time when engagement is very tough. I think that our partnership with Mentor Collective gets at that land-grant institution mission and who we are trying to serve here at Oklahoma State."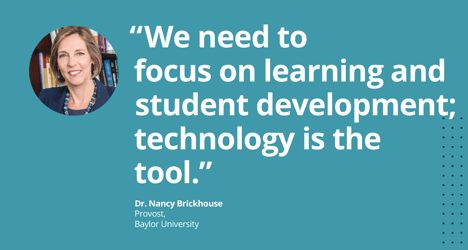 Dr. Nancy Brickhouse, Provost at Baylor University, highlighted the importance of faculty-student relationships in students' academic success. Baylor University invested in faculty professional development that emphasized creating relationships within a virtual or hybrid classroom. "We need to focus on learning and student development; technology is the tool," Dr. Brickhouse said.
It's Back to the Future to Recruit New Students
College enrollment rates dropped 4% nationwide this year, and many institutions fear a further decline in 2021. Universities have been trying to utilize virtual events to engage prospective students and re-install a sense of fun into the college experience. However, many students are burnt out from virtual events and are looking for more authentic ways to connect with universities.
Dr. Suzanne McCray, Vice Provost for Enrollment and Dean of Admissions at the University of Arkansas, shared how they had returned to some previous recruitment strategies, often with a modern twist, to engage prospective students. "We are going back to some old-fashioned kind of outreach. We know that students have Zoom fatigue. They are in class during the day, we have a lot of opportunities for them online, but we have some old-fashioned things, we are hitting the mailbox a lot," she said. The University of Arkansas is sending prospective students items like sunglasses and banners in the mail, often encouraging them to post photos of themselves with the items on social media.
Engage Students as Leaders
A college's greatest asset is its student body, and many institutions are looking for ways to galvanize current students to foster a sense of belonging and community across campus. Dr. Wanda Mercer, Associate Vice Chancellor for Student Affairs for the University of Texas System, highlighted the student-led orientation program's effectiveness at the University of Texas Rio Grande Valley. Student leaders created sessions on various topics, from study-skills to career advice, to pet show-and-tell, to welcome new students to the university.
Dr. Mendez commented that a critical priority for her as Vice Provost for Undergraduate Education has been to forge partnerships across OSU to drive a university-wide approach to student success. Dr. Mendez shared how the program with Mentor Collective plays a critical role in this because of the impact on incoming first-year students and peer mentors. "We are trying to approach all student success as everyone has a role here and trying to break down those silos. We know it is about engagement right now, which is why I am excited about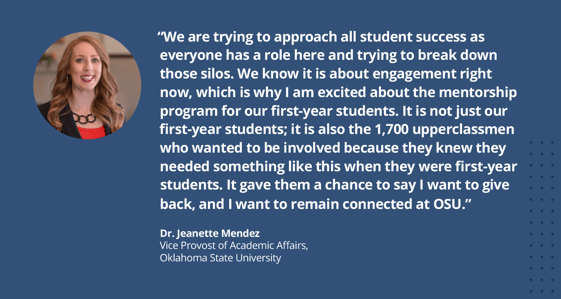 the mentorship program for our first-year students. It is not just our first-year students; it is also the 1,700 upperclassmen who wanted to be involved because they knew they needed something like this when they were first-year students. It gave them a chance to say I want to give back, and I want to remain connected at OSU," she said.
The full recording of the roundtable discussion is available here. To start a conversation about how to best engage and support your students, contact Mentor Collective today.