We are happy to welcome guest writer, Polly Goss, Advisor at Mentor Collective.
Higher education leaders' conception of student success has been dismantled and reinvented this year. On December 10th, Mentor Collective hosted a virtual roundtable discussion with senior administrators from across the country to discuss how higher education institutions should adapt to meet future generations' needs.
Here are 3 of our key takeaways from the event.
Apply an Equity Lens to Re-Imagine all Facets of Higher Education
The panelists agreed that COVID-19 put a spotlight on many of the underlying issues and inequities that were already present in higher education. "None of this should be a surprise," Dr. Mary Papazian, President of San Jose State University, remarked, adding "anybody who is surprised frankly hasn't had their eyes open for a number of years. These issues have all been there, the issue of disparity, the question about the value of a college education, the financial models[...]the systemic racism that has been true for a long time." She continued, "I think this pandemic has shined a spotlight on things we have been thinking about and talking about for some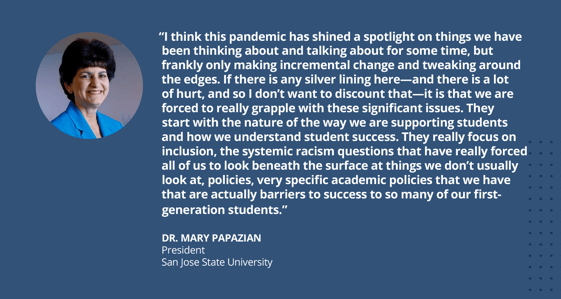 time, but frankly only making incremental change and tweaking around the edges. If there is any silver lining here—and there is a lot of hurt, and so I don't want to discount that—it is that we are forced to really grapple with these significant issues. They start with the nature of the way we are supporting students and how we understand student success. They really focus on inclusion, the systemic racism questions that have really forced all of us to look beneath the surface at things we don't usually look at, policies, very specific academic policies that we have that are actually barriers to success to so many of our first-generation students." San Jose State University has scrutinized its practices and policies to ensure its diverse student body is best served. "The Academic Senate is going through their policies with an equity lens in a way they had never done before," Dr. Papazian said.
The Digital Divide is a Significant Problem that Needs to be Addressed Early in the Student Lifecycle
The panelists agreed that universities and colleges need to extend and deepen the work to provide flexible learning models to support a diverse student body. A critical part of this is ensuring that students can access the technology they need to be successful in the online environment. Purdue University Global, which has been providing online instruction for many years, asks students about their access to the internet and requisite technology as part of their admissions process. "We are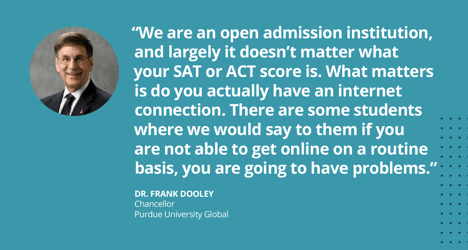 an open admission institution, and largely it doesn't matter what your SAT or ACT score is. What matters is do you actually have an internet connection. There are some students where we would say to them if you are not able to get online on a routine basis, you are going to have problems," Dr. Frank Dooley, Chancellor of Purdue University Global shared.
Partnerships with Industry are Essential to Prepare Students for Success in the Future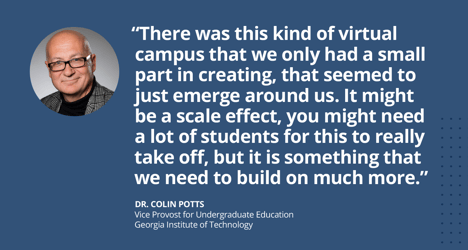 Dr. Colin Potts, Vice Provost for Undergraduate Education at Georgia Institute of Technology, admitted he was initially skeptical about online instruction, as he feared that students would not develop the social and emotional skills needed to thrive in the workplace. "Employers don't want people who are experts in problem-solving; they want people who can solve problems with others," he said. However, he was blown away by the virtual communities that students created. "I was so wrong," he shared, "our students developed, partially on scaffolding we built and partly on their own, all kinds of social networking sites and media for communicating about the degree program and life outside. There was this kind of virtual campus that we only had a small part in creating, that seemed to just emerge around us. It might be a scale effect, you might need a lot of students for this to really take off, but it is something that we need to build on much more," he said.
Dr. Papazian reflected on the changing demographics of the student population across the US, urging higher education leaders to think about how they can best support and engage adult learners. "How do we bring adult learners with some college and no degree back? They are our students. With the rapid change in the economy now, they need that experience of reskilling. How do we build partnerships with industry around us, because our success in educating diverse first-generation students, who are frankly incredibly creative and innovative, is needed by industry." She continued that these industry partnerships are essential to creating a "shared commitment to finding solutions that then helps us address some of the financials. We have made some really significant changes in the way we approach the budget in order to lean into what we have to do. Really big problems, but we'll find solutions."
The full recording of the roundtable discussion is available here. To start a conversation about how to utilize mentorship to engage and support your students, contact Mentor Collective today.