How can higher education leaders support students in 2020-2021?
On Wednesday, June 17, 2020, Mentor Collective and Dr. Venkat Reddy, Chancellor of University of Colorado Colorado Springs had a fireside chat to discuss how to support students in your 2020-2021 planning and the emerging inclusion needs and opportunities the COVID-19 crisis has highlighted.

Here is what we learned:

Lead with culture.
Dr. Reddy asserted that, regardless of the circumstances, culture of an institution should be a top priority. "During a crisis, it's easy to hit a panic button and then create secondary crises. What we have done [during COVID-19] is remind ourselves of our core values: what is this institution all about? Peter Drucker said, 'Culture eats strategy for breakfast.' You can have the best strategy, but if you don't have people behind you, with you, and leading you, I think you're going to fail. I always put culture and people first."
Over-communicate with students, faculty, and staff.


Dr. Reddy highlighted the critical importance of communicating regularly and candidly with your community throughout this COVID-19 crisis, and beyond. "Even if people say it's too much, that's OK. This is about student, faculty, and staff success. This is not about my success as a leader. Their success is your success. You have to communicate more, listen more, and engage with more people. You don't know everything--you need to tap into your stakeholders. Be authentic and ask for their help."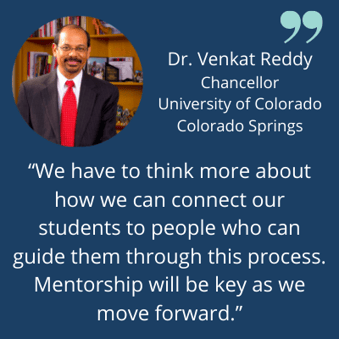 Mentorship is critical.

Dr. Reddy also discussed that leaders need to be transparent about how different college life will feel this fall. "We need to be very clear with the students that you are going to have a different experience, but this is also about adapting to new challenges." He added, "Yes, it's going to be a different experience. But we have to think more about how we can connect our students to people who can guide them through this process. Mentorship will be key as we move forward."

The full recording of our conversation with Dr. Reddy is available here. To start a conversation about how to best engage and support your students, contact Mentor Collective today.