How can universities develop successful, impactful, and inclusive student support systems?
On Tuesday, April 21, 2020, Mentor Collective and Dr. Carol Henderson, Vice Provost for Diversity and Inclusion, Chief Diversity Officer and Advisor to the President at Emory University brought this question to over 50 senior higher education leaders.
Here is what we learned:
Make accountability a priority.
One of the largest barriers to inclusive student success practices is a lack of assessment, accountability, and follow-through. "We want outcomes to be part of the dialogue," said Dr. Carol Henderson. "How do we look at the infrastructure that supports student success? We will have a revolving door if we don't look at the climate, the culture, professional development, and educational opportunities available."
If we want to change the agenda of diversity, equity, and inclusion, the execution of thoughtful strategies needs to be tied to the performance of institution leaders. For example, panelists suggested that faculty and staff be rated by students on inclusive practices as one of the regular evaluation metrics for achieving tenure.
Words matter.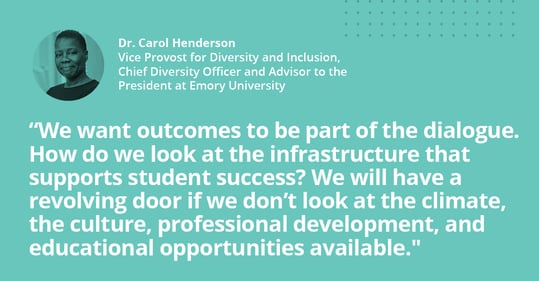 Too often words are used to perpetuate stereotypes of communities that further affirm stigma as well as shape negative interactions. For example, rather than saying "minority" students, use "historically underrepresented and underserved" students. We have shifted the focus to addressing systemic issues rather than further marginalizing the individual. Language plays a key role in our collective efforts to ensure inclusive student success.
Know that students are watching, and watching early.
Initial touchpoints for inclusive student success begin early in the student lifecycle. Prospective students are carefully watching how institutions respond to community and global events, such as COVID-19. An institution's response to issues reflects its values and this informs students' sense of where they want to spend their four years. "Today's college-going population is very savvy," said Dr. Gelaye, Vice President and Dean of Campus Life at Emory University. "They are interacting with our institutions years and years before we are aware of it. The virtual world makes that a reality."
The full roundtable report is available here. To view the full recording of this roundtable or start a conversation about how to best engage and support your students, contact Mentor Collective today.