We're pleased to present to you the winners of our 2021 Mentor Collective scholarship contest. In the coming weeks, we'll share snippets of essays and videos that our winners shared with us, painting a picture of what mentorship has looked like in this unprecedented year—and how it has provided the support crucial to surviving and thriving through it. Today, we're saying congratulations to our fifth winner, Vanessa de Alencar Silva of AUM Warhawk Mentor Collective.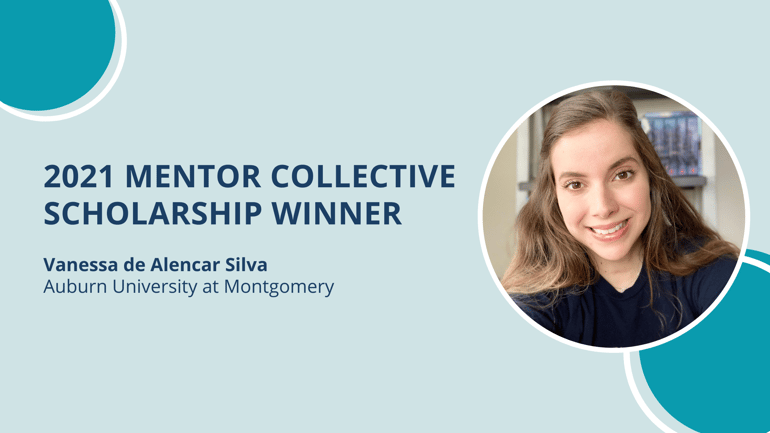 As you might imagine, 2020 was a difficult year for those whose New Year resolutions included making new friends. This was certainly the case for Auburn University Montgomery sophomore nursing major Vanessa de Alencar Silva.
"I remember like it was yesterday: New Year's Eve, midnight, make a wish for 2020!" she shared in her scholarship essay. "I wished to visit as many places as possible and to make new friends." But by March, this goal felt not only unattainable, but also a little dangerous. So indoors she went, mourning the connections and excursions that would have to wait.
Her loss of adventure led to a gain of a different type, however. She remembered the initial draw to her role as a mentor this way:
Some months later, already isolated at home, I received an email about Mentor Collective. I thought, "Hmm...maybe I should give it a try." And I am glad I did because that wish of making new friends in 2020 was not even close to coming true, and the program would help me with that."
The conversations that she held with her mentees let her impart knowledge, and helped her feel grounded in prolonged uncertain times. She remembers these talks fondly, noting that "[My mentee] was listening and asking questions about my life in Brazil, helping me to forget for some hours that the world was falling apart outside of my apartment."
In her mentees, Vanessa saw an opportunity to help new students build a sense of comfort and community in a difficult time—an experience that no doubt helped her to develop the relational skills that are so crucial in nursing. And in that regard, Vanessa was quick to share when asked if she had a message for her mentees: "Thank you for helping me! The moments that I shared with my mentees helped me to reflect about my own academic plans and struggles."
And ultimately, I think we can count Vanessa's original resolution as a success. Between her role as a mentor to multiple mentees, and her membership in the Mentor Collective Ambassador program, she's likely met many more new people than most of us - even in this moment of prolonged physical distance.
"Because of the pandemic, I could not make new friends as I wished," she admits. "But being part of the Mentor Collective team has helped me to meet new people every day. I get new mentees, make plans to work with them, and meet other mentors around the US. It helps me feel that I am not alone and that every day is a new opportunity to help someone and help myself!"
To Vanessa: we hope that your new connections, made both with your mentees and with other mentors and mentees around the world, has helped you check off 2020's resolution as a success!
If you're interested in helping your students fulfill their needs for constructive social connection, get in touch with us about creating a culture of mentorship on your campus.