We're pleased to present to you the winners of our 2021 Mentor Collective scholarship contest. In the coming weeks, we'll share snippets of essays and videos that our winners shared with us, painting a picture of what mentorship has looked like in this unprecedented year—and how it has provided the support crucial to surviving and thriving through it. Today, we're saying congratulations to our fourth winner, Victoria Lu of UCR Campus Collective.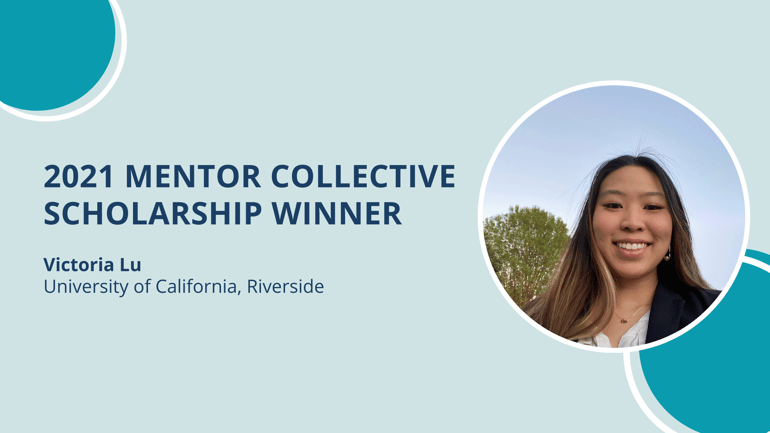 Video conferencing became a mainstay of all our lives in the last year, but Victoria Lu read between the grid lines that separated our screens and wondered how to make new connections. Accustomed to volunteer opportunities that took place in person, she found herself missing these experiences as we moved indoors for the safety of others.
She said when talking about her decision to serve as a mentor, "As I spent my days in endless Zoom meetings, I realized that although I could not physically help others, I could use my knowledge to make a difference."
Victoria was able to make a pair of meaningful connections in John "JJ" Mojica and Erin Ku. As they got to know each other, she was able to see that COVID-19 was having an impact on their college experience. "Although the students were not battling a life-threatening disease, they were battling the side effects that the pandemic had on their education."
Victoria's commitment to helping others is admirable, and it's that commitment that drew her to apply for the Mentor Collective scholarship. "I applied for this scholarship because I really believe in the Mentor Collective's mission to bring people together and I found myself growing in unexpected ways through my participation in the program."
So how have Victoria's expectations shifted during this wildly unexpected year? Namely, she now has a sense that impactful relationships can be built in digital spaces...and she hopes that these relationships will persist when the UC Riverside community can gather again face to face. She writes:
My bond with these students has hopefully shown them that kindness and friendship is still abundant in a world that is incredibly divided. In the midst of a pandemic, I found myself discovering new ways to continue pursuing my mission to support others [..] My experience in the Mentor Collective has been a journey towards providing resources for mentees to find a place at UCR where they belong and can grow to love our community as much as I do.
To Victoria: we're so glad that your time as a mentor not only impacted your mentees, but also helped you find a new sense of purpose.
If you want to provide a journey for your students like the one Victoria led Erin and JJ on, let's connect about creating a culture of mentorship on your campus.