We are happy to welcome guest writer, Dr. Jenna Harmon, Mentorship Research Lead, Mentor Collective
As discussed in my previous blog post, predictions for fall 2020 enrollment in the shadow of COVID-19 are not optimistic. According to a Cirkled In survey report of 1000 high school students in late March 2020, 22% of surveyed students are rethinking their overall plan for higher education. Some are warning that summer melt, in which students fail to enroll in fall classes after making their initial tuition deposit, might look more like a flood.
While the particular circumstances of "summer flood" in 2020 might be new, the phenomenon itself is nothing new. I chatted with Dr. Benjamin Castleman, a professor of education at the University of Virginia and director of Nudge4 Solutions Labs, whose early academic research has focused on better understanding melt and its disproportionate appearance across different populations. Below is a brief transcript of our conversation, edited for clarity.
Dr. Harmon: What are some general trends you are noticing with regards to melt in light of COVID-19?

Dr. Castleman: Many are anticipating a sizable increase in melt this summer, but especially among first generation and lower-income students. For community colleges in particular, this situation is a perfect storm, as their student bodies typically have a higher proportion of first-generation and lower-income students. These students typically experience higher rates of melt under normal situations, but facing the financial strain presented by COVID-19, families will need to make difficult decisions about how to prioritize limited funds, and a college degree may not make the cut.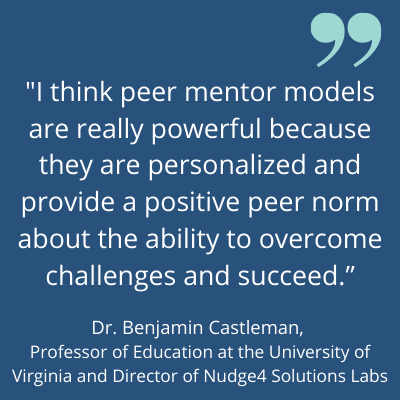 Dr. Harmon: With these concerns around low enrollment, the term "summer flood" has been floating around the higher ed blogosphere a lot recently -- how do you define this term?

Dr. Castleman: Well the term "summer flood" itself comes from my colleague Karen Arnold and the article we worked on together, "The Summer Flood: The Invisible Gap Among Low Income Students." What we mean by it is when high school graduates have done everything they need to do in order to attend a college, but then fail to attend anywhere in the fall. We found this was usually related to the complicated tasks students need to complete over the summer, but fail to complete because they don't have access to professional advisors.
One of our big discoveries was that summer melt actually begins much earlier, in early spring, when students are submitting their financial aid materials. If a student doesn't submit their financial aid forms on time, they end up not getting enough aid, or their reward letters end up being delayed, which prevents them from being able to plan for the fall.

Dr. Harmon: You mentioned earlier that students' lack of access to advisors who can help them over the summer months contributes to melt. Since students have been attending school remotely since mid-March, do you think this prolonged lack of access will be a contributing factor to the increased melt levels in the fall?

Dr. Castleman: Absolutely. This was a concern even when students were physically in school for the entire academic year; now that they're all remote, it's going to mean FAFSAs will be submitted late or won't be submitted at all. Students are going to have an even harder time understanding their award letters or FAFSA verification, and because they don't have the support of advisors or family familiar with the process, students may not be as comfortable pursuing needed fee waivers, or even know about them at all. These are all contributing factors to students feeling pressure and confusion, leading to them putting off following through on attending their college of choice in the fall.

Dr. Harmon: What do you think the biggest hurdles will be for schools trying to combat these higher melt rates?
Dr. Castleman: Unfortunately there's such a broad array: affordability for students; emotional and psychosocial barriers; concerns around health risks; concerns around the value of college if it's largely or fully online. Students and teachers are right to see the college experience as much more holistic than just the content in classes, and that experience is strengthened by peer engagement, which can be much more challenging to create in an online environment. A lot of students and families are going to feel pressure to take jobs whenever they can be found; if Walmart or Amazon is hiring, I think there are a fair amount of students who will feel an understandable amount of pressure to take those jobs in order to support their families.

Dr. Harmon: What are the implications of summer flood for fall 2020? Fall 2021?
Dr. Castleman: The uncertainty is the most challenging aspect in this because it makes it hard to do any longer term planning. If I had to guess, I'd imagine absent substantial investments at the institutional, state, and federal levels, that we will see meaningful enrollment declines this fall, with those declines most strongly concentrated among broad access public institutions. I'm particularly concerned about community colleges, which didn't have the financial resources of a Harvard or a Stanford before all of this, but do have the populations that are going to be most susceptible to the pressures that might prevent them from enrolling.

I anticipate sizable enrollment declines but I also think that's malleable. I think there are approaches that policy makers can invest in to improve the post-secondary success of their young people by ensuring affordability of education, intrusive and personalized advising outreach, and providing really strong support and guidance. Those efforts require financial investments, but to me it's not an inevitability that there will be these large enrollment declines. We as a society could choose to really get behind the educational pursuits of our more economically disadvantaged youths, because we know it will pay off for society and for those individuals.

I get a fair amount of questions asking, "how useful are nudges? How useful could chatbots be?" I definitely want to say that any organization that's trying to be proactive, I applaud and support fully. However, I also think that if we look at the broader evidence base on the size of the impacts we get from interventions like nudges compared to more comprehensive financial support, it's the latter that produces much more meaningful change. COVID-19 is laying bare all kinds of inequalities we already knew about. There's a vast difference in what we invest in disadvantaged communities compared to their more affluent peers. We need to make the large investments that we know from evidence have a sizable impact. I think peer mentor models are really powerful because they're personalized and provide a positive peer norm about the ability to overcome challenges and succeed.
To start a conversation about how to best engage and retain your students, contact Mentor Collective today.