On Monday, April 27, 2020, Mentor Collective and the University of Colorado, Denver hosted a virtual roundtable bringing together over 50 senior higher education leaders to discuss student success strategies for 2020 and beyond in the face of COVID-19.

The discussion addressed how, in the face of COVID-19, the landscape of higher education is forcing institutions to navigate creating community in a world of physical distancing with the real possibility that students will need to continue learning online come September. Key strategies and learnings from panelists regarding student success strategies for 2020 and beyond included the following highlights:

Flexibility is key
The theme of flexibility arose repeatedly throughout the panel conversation. Expectations and routines from earlier in the year are gone, replaced with students, faculty, and staff who are learning a new normal, and navigating a host of challenges. Dr. Michael Benitez Jr Vice President for Diversity and Inclusion at Metropolitan State University noted, "We have to be creative and considerate of everyone's needs. We need to extend our agility and flexibility to assure we're addressing our students' challenges."
Dr. Valerie Martin Conley Dean and Professor; Leadership, Research, and Foundations at University of Colorado, Colorado Springs agreed, adding "We need to understand the student needs now and look ahead to the future."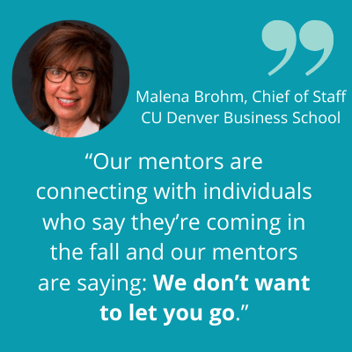 Mentorship will help with enrollment

During the incredibly stressful and uncertain times for higher education, mentorship is a strategy for engaging students, checking on their wellbeing, and also helping secure fall 2020 enrollment. "Summer is here, we're all wondering what's going to happen with fall enrollments? How are we keeping our pipeline secure?" asked Malena Brohm, Chief of Staff, CU Denver at Business School."How are we using mentoring? We are saying to mentors, reach out to your mentees. We are using that to remain connected and to hear from mentees about stress points. Our mentors are connecting with individuals who say they're coming in the fall and our mentors are saying: we don't want to let you go."
Engage with students and acknowledge barriers
Administrators often create an insular world where they do not look outside their own circles for ideas on student support and success. Dr. Tobias Guzmán, Chief Diversity Officer & Assistant Vice President for Student Affairs at the University of Northern Colorado encouraged, "Do we really engage with our students in a purposeful way? It's important to understand what different generations are saying and thinking about. Use social media to gather information, use surveys, talk to students in their spaces, go to clubs and organizations that are happening constantly on campus."
Embrace Technology
With the real possibility that many schools could continue with online learning in Fall 2020, the need for faculty and staff to engage in professional development is clear. Dr. Linda Brooker, Assistant Dean at CU Denver Business School made an important distinction between online learning, where all lectures and discussions occur live online, and the remote learning model they are training their staff to use. With remote learning, faculty are trained to record short lectures to be uploaded and watched at a student's own pace. Then the live 'online' class time is reserved for Q & A and in-depth discussion where students can be engaged.
The full roundtable report is available here. To view the full recording of this roundtable or start a conversation about how to best engage and support your students, contact Mentor Collective today.