For many students, college acceptance does not equate to college enrollment (Arnold et al., 2009). Many students who have accepted a place to study at a higher education institution will not end up attending that institution in the fall, a phenomenon known as "summer melt" (Castleman & Page, 2014).
Leveraging data from partner institutions and enrollment-focused peer mentoring programs across the country, Mentor Collective's latest white paper measures the melt propensity of more than 2,500 first-year undergraduate students as compared to their non-mentored peer cohort.
Previous research has supported the use of peer mentoring as a high-impact practice for bolstering retention and sense of belonging, specifically for historically marginalized groups. This new white paper explores the hidden equity gaps within the enrollment process and informational barriers that are more acutely felt when students are likely to be disconnected from the support networks that helped them get into college.

HIGHLIGHTS:
Mentored students showed a 46.7% likelihood to melt,

nearly 30% lower

than their non-mentored peers, whose melt propensity was 72.7%.
20%-36% reduction in melt propensity for students in historically underserved racial and ethnic groups.
First-Generation students that were matched with a mentor saw an over 25% decrease in melt propensity, compared to their first-generation peers.
More engagement (4-7 conversations) with a mentor led to more dramatic decreases in melt propensity.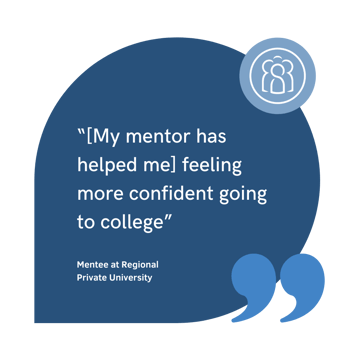 We recently sat down with Mentor Collective's New Product Development Lead and co-author to the paper Polly Goss, M.A. - to discuss the importance of creating peer support networks for newly admitted students and how this research reveals best practices that all institutions can leverage.
What's been the most surprising revelation for you and your colleagues upon reviewing and processing all of this melt data?
Polly Goss, M.A.: Our previous assessments of the impact of mentorship on enrollment and retention meant that we were optimistic we would see that mentorship was impactful for historically underserved students including first-generation and BIPOC students; however, to have this hypothesis so strongly supported was really important. Mentor Collective's mission is centered around closing equity gaps in education, and so being able to empirically see the impact of our mentorship programs on populations that are more vulnerable to melting was very affirming for myself and my colleagues.
What measures do universities/colleges typically have in place to reach their admitted students? What do they do well and where in your experience have some of those strategies fallen short?
Polly Goss, M.A.: Universities and colleges tend to have a range of strategies in place to yield admitted students. Many enrollment leaders have told me that until last year, they tended to rely a lot on in-person campus tours and admitted student days to encourage admitted students to enroll at their institution. Whilst these in-person activities can be really valuable to some students, they are not accessible to all students. Often schools have a great team of student ambassadors or tour guides who can answer prospective students' questions, however the majority of schools place the burden on the prospective student to reach out and make contact with these ambassadors. This usually means only the most confident and extroverted students are taking advantage of this resource, and they often tend to be the students with the most social capital and widest network of friends and family who attended higher education to begin with. Repeatedly enrollment leaders have told me that their prospective students are asking for more contact with current students during the admissions and enrollment process, but a lot of colleges and universities current efforts to connect students are not effective in reaching the students who could most benefit from having access to these relationships.
Outside of encouraging first-time students to enroll and attend classes, how does having a connection at the university on that first day set the tone for the rest of the year?
Polly Goss, M.A.: A mentor can be that first-friend on campus for a new student. It can be very reassuring to know that you already know one person at the institution before your first day. In addition, a mentor plays the role of the responsible friend/older sibling who can help make sure you have what you need to be successful and answer any questions you might have the weeks leading up to and during your first semester.