With the impacts of a global pandemic, widespread economic uncertainty, and systemic racial injustices moving to the forefront of the collective consciousness, universities around the world face additional challenges with maintaining or regaining their enrollment and retention numbers.
On November 8, 2021, Mentor Collective welcomed higher education leaders from around the country to discuss how they are moving forward in these challenging times, as well as how mentorship can play a powerful role in student engagement and success.
Here are a few of the key takeaways from the event.
Capitalize on Your Resources
With fall 2021 enrollments not rebounding as much as the industry would like, panelists recounted ways in which they reimagined resources that they already had on hand to tackle yield. Montclair State University, for example, is a large public Hispanic-Serving Institution (HSI) with a total undergraduate enrollment of 16,000 students; they had a big job on their hands when the COVID-19 pandemic hit.
"We realized that we had a surplus of Student Affairs employees in late spring of 2020—people in areas like residence life and student activities that weren't doing the same jobs at the moment," said Wendy W. Lin-Cook, PhD, vice president for enrollment management. "We temporarily converted them to assist admissions and advising officers to help make the phone calls to get students to enroll. These were high-touch contacts, and they made a difference."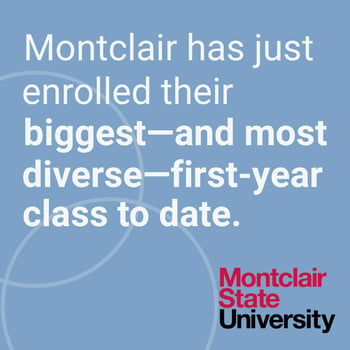 Another way in which Montclair capitalized on existing resources was by allocating some of their Higher Education Emergency Relief Fund II (HEERF II) money to create a summer bridge program for incoming first-year students.
"We knew that in New Jersey, students mostly had been doing virtual education for the last year-and-a-half years and hadn't had much social contact," said Lin-Cook. "We were able to offer five weeks completely free for all incoming freshmen, or about 800 students. Each classroom had tutors and in-person training on time management, finance management, and more to prepare for college, and students were able to earn up to seven college credits during the program.
Montclair has just enrolled their biggest—and most diverse—first-year class to date.
Foster Deep Connection Through Mentorship
Throughout the event, panelists returned to the concept of mentoring as a way to increase student engagement and sense of belonging—powerful tools in both enrollment and retention.
At Pacific University Oregon, data analysis showed that admitted students who had between one and three conversations with their Mentor Collective peer mentor enrolled at a 26 percent higher rate than students who did not engage.
"We are a family here, and students making those personalized, real connections with each other is consistently a reason they name for why they chose to come to Pacific," said Madison Andrews, MS, assistant director of admissions. "I can't recreate that as an admissions counselor, but Mentor Collective was able to be intentional and genuine in their outreach and provided a continuation of what is successful for us in a very organic way.
Mentorship was also shown to be a big boost for diversity.
"A lot of our prospective students are first-generation, and they don't have someone to talk to about the college process," said Lin-Cook. "Mentor Collective allows them to connect with someone who has that experience and can walk them through it."
In fact, data analysis of Montclair's Mentor Collective program also showed the admitted BILPOC (Black, Indigenous, Latinx, and People of Color) students who engaged with their mentor deposited at a 5.2 percent higher rate than those who did not.
Join the Enrollment Collective to Gain Insight from Peer Institutions
Mentor Collective's Shannon LaCount, PhD, partnerships director, and Polly Goss, new product development lead, outlined a new, 12-month initiative dedicated to admissions offices seeking to increase yield and enroll a diverse incoming class during one of the most challenging periods in higher education history.
The Enrollment Collective is an invitation-only cohort for four-year schools that will allow members to:
Be part of a nationwide peer network that shares a focus on student-centered admissions and enrollment practices
Collaborate with Mentor Collective's product team on admissions product and research roadmaps
Gain insights to inform your enrollment strategy through dedicated learning sessions with our research experts
Amplify your story through co-branding opportunities, including having your campus featured in a roundtable panel, webinar, case study, white paper, and/or conference presentation
To learn more about the Enrollment Collective or to join, contact Mentor Collective now.
The full recording of the roundtable discussion is available here. To start a conversation about how to utilize mentorship to engage and support your students, contact Mentor Collective today.