A cone full of ice cream is the perfect treat on a hot summer day. But if you're not careful, that delicious dessert melts into a sticky mess, leaving you unhappy—and with one less ice cream cone.
The analogy holds true for potential incoming college freshmen. They've graduated from high school, applied and been accepted to an institution, maybe even paid their deposit. But then comes the "heat": Complete your financial aid package. Take a placement exam (or two, or three). Sign up for classes. Find a place to live. It's easy to see how a student—especially one who may lack a support network—melts faster than that ice cream cone.
This phenomenon is known as "summer melt." Summer melt happens when a student has applied and been accepted to a college but doesn't attend that institution in the fall after their high school graduation. They've "melted," going from an incoming freshman to a student without a postsecondary education plan.
According to the Harvard Strategic Data Project, this phenomenon affects anywhere from 10 to 40 percent of high school graduates who plan to attend college. Students from historically marginalized backgrounds, such as first-generation students, low-income students, students of color, or students without much family support are more susceptible to melting, according to the National College Attainment Network. It's also more common among students intending to enroll in community college in the fall, the Harvard Strategic Data Project notes.
Summer melt happens for many reasons. But the summer between high school graduation and college matriculation is often a time when students no longer have access to the networks that helped them get accepted to college in the first place, like teachers, guidance counselors, or advisers from college access groups. There are several tasks students have to complete before attending college—paying deposits, finding housing, choosing and enrolling in classes—and those can be daunting and financially draining to a student without a strong safety net.
However, there are ways to stop summer melt—many of which have proven effective in sending more college-bound students to their intended institutions. One of the most successful is one-on-one mentorship with a peer attending the same institution, like the programming offered by Mentor Collective.
The Most Effective Way to Freeze the Melt
School districts and organizations use a variety of methods to slow or stop summer melt.
These include worksheets that provide students a roadmap to the tasks they need to complete; texting outreach campaigns that remind students about various deadlines; or counselors who work over the summer to reach out to students.
Research shows that the more personalized the intervention, the better. A worksheet outlining what tasks a student needs to complete may seem helpful, but if the first task listed is "complete financial aid paperwork" and the student isn't sure how to do that, the worksheet becomes yet another confusing barrier. If the student can reach out to a real person and ask for help, that significantly improves their chances of actually filling out that paperwork.
Mentorship—whether it was through school counselors, university admissions staff, college access organizations, or college students—was very effective in convincing students to enroll, according to the Harvard Strategic Data Project's research. In many of the programs outlined in the Project's Summer Melt Handbook, enrollment increased by 5 percentage points after students talked with someone over the summer.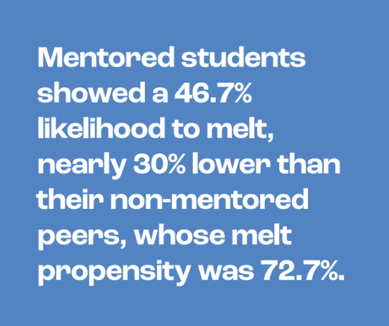 When that mentorship is at a one-on-one level with a peer from the student's future institution, the success rate is even higher: Mentored students showed a 46.7% likelihood to melt, nearly 30% lower than their non-mentored peers, whose melt propensity was 72.7%, according to Mentor Collective research.
Mentor Collective's new enrollment program takes the work out of an institution's hands. The university doesn't have to worry about scaling or managing the program—Mentor Collective handles that. Mentor Collective recruits and thoroughly trains currently enrolled students to serve as mentors to admitted students.
Mentor Collective also takes 10 separate factors into consideration when matching up mentors and mentees, including gender, academic interests, and first-generation status. Mentors and mentees can communicate however they prefer, whether that's through texting, phone calls, or video chats.
Since summer melt disproportionately affects students from marginalized backgrounds, slowing or stopping the phenomenon is an especially key part of an institution's diversity, equity and inclusion work. Mentorship can change the trajectory of a student's post-secondary path—and help institutions better serve their most vulnerable populations.
To learn how you can make your admissions process more personal and relevant to all students, contact us today.