When higher education institutions are committed to diversity, equity, and inclusive excellence, everyone benefits: faculty, staff, and most importantly, students. In a study conducted by the Department of Education on advancing diversity and inclusion on college campuses, they found that when students perceive an institution to have a higher commitment to diversity, students report less discrimination and bias. Mentorship programs can demonstrate to students a commitment to diversity, equity, and inclusivity (DE&I), provide social-emotional and academic support, and, ultimately, increase the odds that students remain enrolled in school.
Social-Emotional
Academic advising is a powerful student support system for developing academic goals and staying on track, but personal mentoring can provide cultural and socio-emotional support to help ensure students feel welcome and ready to achieve their academic goals. Mentorship program help students identify strategies to overcome both academic and "real-life" barriers and might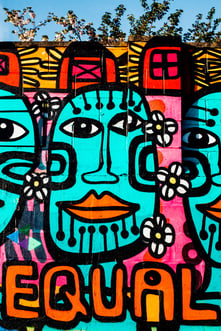 be particularly helpful for first-generation students who are less familiar with the institutional structure of higher education. Mentorship can help students develop a deep sense of belonging, build a connection to their institution, and find the emotional support they need to succeed.
Academic
Mentorship has been recognized to positively impact traditional indicators of college student success such as average GPA, credits earned, and retention. For students who have never had access to a mentor or connected with a someone who looks like them in their field of interest, mentorship is extremely important. Findings from a Pearson study illustrated how exposure to diverse backgrounds and perspectives improves academic achievement for students of all backgrounds, including critical thinking skills and academic self-confidence. Students have unique needs and universities must adapt to meet them. Mentorship can help all students improve, academically, and are particularly important for students who do not comprise a racial or ethnic majority.
Retainment


From outreach and recruitment to retainment and persistence, and finally to graduation rates and career outcomes, there are many junctures for administrators to improve diversity, equity, and inclusion. Cal State Fullerton, in its strategic plan, set clear goals to improve student persistence, increase graduation rates and narrow the achievement gap for underrepresented students as well as recruit and retain a high-quality and diverse faculty.

Last fall, Georgetown University offered an experimental, one-credit course, "Mastering the Hidden Curriculum," to help first-generation students adjust to their first semester. The course encouraged students to pursue opportunities that their more advantaged peers learned from college-educated parents and mentors.
Colleges across the country are employing different strategies to increase retention and mentorship can offer students a perspective on the kinds of issues not covered in orientation and help them stay engaged.
Conclusion

There is no single model or strategy to improve DE&I. However, mentorship offers a way to help meet the diverse needs of students stepping foot on college campuses across the nation. Mentorship has become an increasing focus for many universities. As universities look for ways to create more supportive and inclusive learning environments to keep students engaged and connected, mentorship must be part of their strategy.