In a post-pandemic landscape, higher education institutions of all kinds are struggling to regain lost ground, and two-year colleges are no different. Overall community college enrollment is down 14.8 percent since 2019, with enrollment for all racial and ethnic groups continuing to decrease, according to recent data from the National Student Clearinghouse Research Center.
On February 22, 2022, Mentor Collective hosted a virtual roundtable discussion with experts to learn how large-scale, structured mentorship programs are helping two-year institutions support students from all backgrounds.
We were honored to be joined by several higher education and two-year institution experts, including:
Juan Avalos, Ph.D., Vice President for Student Services, Saddleback
Laura Mears, Associate Vice President for Admissions & Enrollment Services, Frederick Community College
Linh Nguyen, Intercultural Initiatives Coordinator, Western Technical College
Andre V. Coleman, Dean of Campus Intervention, Sacramento City College
Breanne Holland, Student Support Services Supervisor, American River College
Two-Year Collective Research Findings
Shannon LaCount, Ed.D., associate vice president of partnerships at Mentor Collective, began the discussion by highlighting some of the research findings compiled from MC's cohort of two-year institutions—a group of 10 universities hosting different versions of mentorship programs tailored to their unique needs and goals.
One discovery was around institutions' desire to support adult students as a growing population of students at universities of all types, including two-year and technical colleges. Students aged 18 through 24 represented approximately 64 percent of the cohort's mentee population, showing adult students' strong interest in being mentored. Similarly, adult students aged 18 and up also showed an interest in opting in as mentors, showing the potential of encouraging successful mentoring relationships within this important demographic.
Another common reason for institutions seeking to partner with Mentor Collective is to support their first-generation students—approximately 25 percent of mentees and 28 percent of mentors in the two-year cohort identify as first-generation students. In addition, first-generation students show higher engagement than the general population, with 45 percent of them logging three or more conversations with their mentors.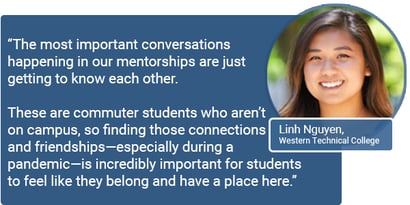 Moderator Dr. George White, inaugural managing director of student access and success (retired) and Professor Emeritus at Lehigh University, then moved into the panel discussion, asking participants for their insights on how mentorship has helped them support student success.
Supporting Low-Income Student Parents with Peer-to-Peer Mentoring
Sacramento City College made the decision to offer a tailored mentoring program to their students in the California Work Opportunity and Responsibility to Kids (CalWORKs) program—in other words, low-income students who are also parents. Leveraging these peer-to-peer relationships has led to positive outcomes in both retention and engagement.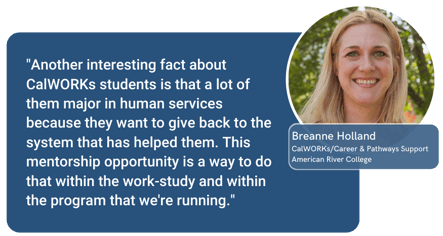 "Equity work and equity mindedness is about systems and structures that we can put in place to pair with what students need. The higher the challenge, the more support needed, and I can't think of a population that needs as much support as 'studenting parents' who have to navigate family and school and the needs of their children." -- Andre V. Coleman, Dean of Campus Intervention, Sacramento City College
The Messenger Matters
Recent research shows that college students feel most comfortable sharing issues of importance with their fellow student peers. At Western Technical College, they pair mentees with less than 29 credits with mentors who have over 30 credits to increase sense of belonging and persistence.
"The most important conversations happening in our mentorships are just getting to know each other. These are commuter students who aren't on campus, so finding those connections and friendships—especially during a pandemic—is incredibly important for students to feel like they belong and have a place here." -- Linh Nguyen, Intercultural Initiatives Coordinator, Western Technical College
Communicating the Value of a Two-Year Degree
As two-year colleges remain the most adversely affected sector for enrollment, Frederick Community College is using a prospective-to-current student mentorship program to help communicate the value of kickstarting their education to potential students.
"Whether they already have credits or never got started taking classes, we have many students who stopped out during the pandemic that are looking to return; however, with the way the landscape has changed, it's overwhelming to them. By connecting these prospective students with current students who have made it through the pandemic with success and resilience, we hope to help give them the confidence to take that next step." -- Laura Mears, Associate Vice President for Admissions & Enrollment Services, Frederick Community College
The full recording of the roundtable discussion is available here. To start a conversation about how to utilize mentorship to engage and support your students, contact Mentor Collective today.